Deutsch
Aktion »Not-Buch«
At the time of digital publications there does not seem to be any place for the good old book. This may be justified for some forms of publications, but the task still remains to maintain those printed treasures from the past for future generations.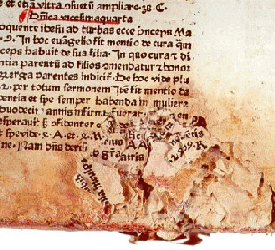 The "signs of ageing" reflect the length of time that some of these items have been in our possession. In most cases mould and ink corrosion have aggressively attacked old pages; water damage and unsuitable storage conditions have all had a negative effect on the binding and bodies of the books. Paper with acid content starts to disintegrate.
The damage can be largely repaired these days, thanks to skilled restoration work and the application of special techniques. Nevertheless, the intensive restoration processes are always dependent on financial investments which, unfortunately, public institutions can rarely afford.
Despite this, the Universitätsbibliothek Johann Christian Senckenberg feel obliged to protect and maintain their cultural possessions and have called to life a joint scheme for this very purpose: »Not-Buch« [Endangered Books].
Especially endangered works were traced in the various departments and special collection areas and were checked thoroughly for damage. Afterwards a qualified evaluation of the restoration costs were carried out.
Subsequently, these books are now looking for willing friends of books and culture, who are prepared to share the costs of a restoration or even to finance the entire bill.
Would you like to sponsor a book which can be restored with the help of your contribution?
Sponsor Account:
Freunde der Universitätsbibliothek Frankfurt am Main e.V.
IBAN DE25 5005 0201 0000 0777 76
BIC HELADEF1822
at the Frankfurter Sparkasse
reference: "Notbuch"
If you are interested in sponsoring then just take a look at the list of titles you can sponsor. A description of the condition of each volume and the measures necessary to restore the book are given.
List of titles
How to become a sponsor: see details
For further enquiries please contact a colleague in one of the Special Collections Departments:
Archives Centre:
Archivzentrum, Tel.: (069) 798-39009
Frankfurt Collection / Rare Books:
Frankfurt Lesesaal, Tel.: (069) 798-39248
Jewish Studies / Hebrew Studies:
Rachel Heuberger, Tel.: (069) 798-39665
Manuscripts Dept:
Dr. Bernhard Tönnies, Tel.: (069) 798-39236
Music and Theatre Dept:
Dr. Ann Barbara Kersting-Meuleman, Tel.: (069) 798-39245
Science and Medicine Dept:
Dr. Angela Hausinger, Tel.: (069) 798-22365
Zurück zum Seitenanfang
zuletzt geändert am 5. Oktober 2016