Deutsch
Detailed information on your library card
Registration, library card?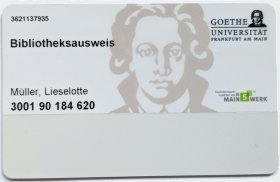 Every one can use the reading rooms and the stocks at the University Library with a user card.
However, you do need a library card . . .
If you want to take books and other media out on loan
If you want access to electronic resources ( E-journals , E-books, databases)
If you want to use the locker facilities in some dezentralized libraries which function with the smart card.
Furthermore, if you want to top up your card with money to pay for photocopies and print-outs.
For students and employees of the University of Frankfurt: the student identity card or staff identity card (Goethe-Card) serve as the library user card as well. more information
Other users can register for a library card
If they live or work for at least 3 months in the Federal State of Hesse or in the Hessian Interlibrary loan region. The Hessian Interlibrary region comprises all the towns and counties AZ, MZ, WO to the left of the Rhine. If these requirements are not met please refer to the Information in the Central Library for other opportunities to use the Central Library or to be able to take items out on loan.
If they are 16 years of age or older.
Use the online application form to register for a library card and then go directly to the Information in the Central Library or within the next few days to pick this up personally.
You need to present the following documents:
Personal Identity Card
Or European Identity Card and proof of registration (max. 2 years old)
Or passport and proof of registration (max. 2 years old) / electronic residence 's permit
If you study at a different University then you need to show a valid certificate of study
If you are under 18 years of age then you need to produce written consent of the parent/legal guardian and their personal identity card or passport.
Formular für die Einverständniserklärung
You can also have your library card issued or renewed from home. In both cases - new issuance and renewal - please send us a photo/scan of the above-mentioned documents (for ID card front and back) to: information[at]ub.uni-frankfurt.de
The library card is free of charge, however, to replace one which is lost or if you deregister without producing your card you will be charged a fee of 20 Euros.
Please keep your user data up to date. To change your address, please contact the library staff at the counters. You can update your e-mail address yourself via the user account.
If you lose your library card please contact the library immediately and get your card locked. In this way the library can be alerted to prevent misuse.
If you have forgotten your library card you can apply for a duplicate daycard which costs 3.00 Euro.
Data protection
All the order and loans processes are automized. Your personal details have to be stored and processed. According to the Hessian Data Protection law (HDSG) your permission is needed for this.
more information
Any more questions?
If you have any questions please send a mail to information[at]ub.uni-frankfurt.de
or call: 069/ 798-39205
Zurück zum Seitenanfang
zuletzt geändert am 30. März 2023