Deutsch
Library password
Library card number
The library card number is on the card directly under your name. It is a 12 digit number and begins with 30... (write without blanks).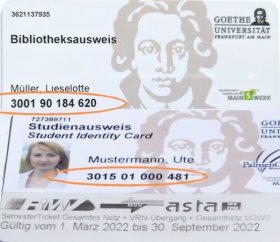 How is my library password set?
If you have not been given another password then your password is by default :your date of birth in the form of DDMMYY, e.g. 12th May 1998: 120598 Please change your password on first login.
Library card number and password are not identical with the Internet login authorization which you have been given by the University's computer centre (HRZ account).
Forgotten library password?
You can't remember your password (anymore?). You can apply for a new password or reset your password:
In person at the Registrations Desk of the Central Library, Bockenheimer Landstraße during opening times ( don't forget to bring your personal identity card with you!).
Students and employees of the Goethe -University can re-set their library passwords via their HRZ accounts:
* Students use: https://kartenservice.uni-frankfurt.de
* Employees use: https://kartenservice.uni-frankfurt.de/mitarbeitercard/login
If you have given a valid E-mail address in your account or in your user data, you can also retrieve your password by e-mail:
retrieve new password
Change library password
You can change your password at any time!
Go to search portal > Your account > Preferences > Change password
Go to: user data > password in the online catalogue
Zurück zum Seitenanfang
zuletzt geändert am 26. September 2022