Central Library / Zentralbibliothek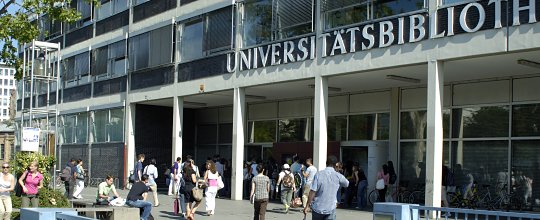 © Christian Vas
General Orientation
The Central Library of the Goethe University Frankfurt am Main is accessible to the general public.
Whilst you can order books and other material purely for use in the reading rooms without having to be a member you will need a library card for all other online facilities and to take books off the premises.
For students at the Goethe University the student identity card (Goethe-Card) also functions as the user library card. Employees of the Goethe University use their membership cards (Goethe-Card plus) as library cards.
All other categories of users can apply for a library card online, which they then pick up in person at the registration desk (Anmeldung). Your identity card (or passport + confirmation of residence) will be required.
Further information
Literature research - how to get my book?
Our current stocks hold about 6 million items most of which are in closed stacks and have to be ordered in advance.
General and subject specific reference works as well as important journals are accessible freely in our reading rooms and reference areas. You can inspect the items promptly but the most of them are not for loan.
Please search the literature via the Frankfurter Suchportal, which includes the online catalogue:
Frankfurter Suchportal
The information »bestellen / place a hold« in the catalogue indicates that an item has to be ordered from our closed stacks. You do not even need a library card for this.
Further information about the loan service in the Central Library
Short introduction to Frankfurter Suchportal
Your library account
Please click on »Ihr Konto / your account« and login for the following information:
Is my book ready for collection at the loans desk?
What is the return date?
Are renewals possible?
Is there any reservation for my book?
Option to insert, delete or change my email address.
. . . . and more
Zurück zum Seitenanfang
zuletzt geändert am 2. Juni 2023