Library for Social Sciences and Psychology /
Bibliothek Sozialwissenschaften und Psychologie (BSP)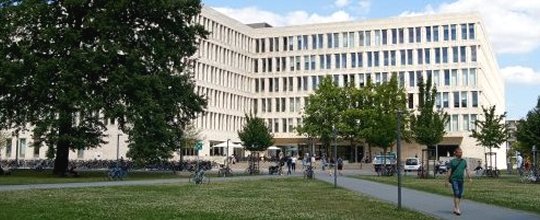 © Thomas Risse
The Library for Social Sciences and Psychology is responsible for supplying literature to the faculties for social sciences, educational sciences, psychology and to the Institute for Human Geography.
Library card, registration
For using the collection in the library no registration is required.
To borrow books from the collection a library card is needed . For students and staff from Goethe University the Goethe card is the library card. For students from other universities and non-student users a library card will be issued free of charge at the registration desk of the Central Library.
An e-mail address is required in order to be notified about the arrival of items reserved (see Reservation).

Computers, catalogues
To search the holdings of the BSP, the Central Library and several other libraries, research computers are available. The search portal/online catalogue lists books, doctoral dissertations, journals, e-journals, and other non-book materials.

Internet
WiFi is available everywhere in the BSP. To use the WiFI an account of the Hochschulrechenzentrum is needed. Students from other universities can use the WIFI if they have access to Eduroam.

Lending, renewals
The regular loan period is four weeks. The loan period can be renewed three times for a further four weeks, provided it has not been reserved by another user. The renewal can be done online. Renewals by mail, fax, postcard or telephone are not accepted.

Reservation
Items currently on loan can be reserved (exception: if an item has been reserved by 2 other users, no further reservations can be placed). As soon as the desired item is available, you will be notified via e-mail (see Registration).

Reminders
For overdue items reminders are sent via e-mail and fines are charged as follows:
first reminder: Euro 3.00 per item
second reminder: Euro 3.00 per item
third reminder: Euro 6.00 per item
The fine is charged as soon as the reminder is issued and is not dependant on when or if you receive it.
Copy machines/printers
Copy machines / printers (monochrome and colour) are situated on the ground floor and in the basement. The Goethe Card/library card simultaneously is your copy card.
Lockers
Before you enter the library, please leave your outer garments, bags, food and drinks (only water in clear-transparent bottles is allowed in the reading room) in a locker. Lockers are situated outside the library. To open and close the Goethe Card/library card is needed. The library assumes no liability.
Study places/group rooms
527 seats including 5 group rooms . 4 of which can be reserved on our website.
How to get to the BSP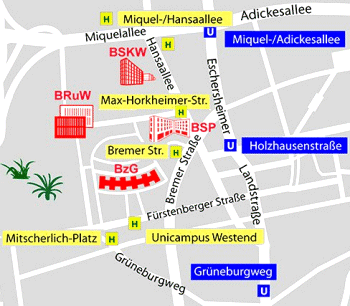 Postal address
Bibliothek Sozialwissenschaften und Psychologie
Theodor-W.-Adorno-Platz 6
60323 Frankfurt

Information
Tel: 069/ 798-35123
bsp[at]ub.uni-frankfurt.de

Director
Anette Müller
Tel: 069/ 798-35119
a.mueller[at]ub.uni-frankfurt.de

Deputy director
Julia Gildenstern
Tel: 069/ 798-35117
j.gildenstern[at]ub.uni-frankfurt.de
Directions
From the mainline station take any S train in the direction of the City Centre to »Hauptwache«, change to underground lines 1, 2, 3 or 8 and get off at »Holzhausenstraße«.
If you are coming from Campus Bockenheim take the 36 bus at the »Bockenheimer Warte« bus stop and get out at Campus Westend or take the bus no. 75 and get out at the »Max-Horkheimer-Straße«.
Zurück zum Seitenanfang
zuletzt geändert am 5. Mai 2023