Deutsch
Interlibrary Loans
Books which are not available in Frankfurt's libraries can be ordered from other libraries.
Prerequisites
This service is not free of charge. Please set up an interlibrary loans credit account at one of the following libraries in person. All other steps you can do online at home!
As your interlibrary loan account will be debited with at least € 2,00 for each interlibrary loan order please make sure that there is enough money deposited to cover these charges. Any monies left over will be reimbursed when you dissolve your account. For international loans orders at least € 8,00 for each volume (or 20 pages) plus additional charges (e.g. postage) will be deducted.
Request: Guide: How to do a request
Blank request
If the literature you require is not in the Hebis portal you can still order an interlibrary loan online. Click the button "Blank request form" in the lower left-hand corner and complete the details of your request.
What happens now to my request?
You can check the progress of your request at any time via your user data. Once you have successfully registered click on data/ILL and then follow the link "Show ILL-data" (Inter Library Loan).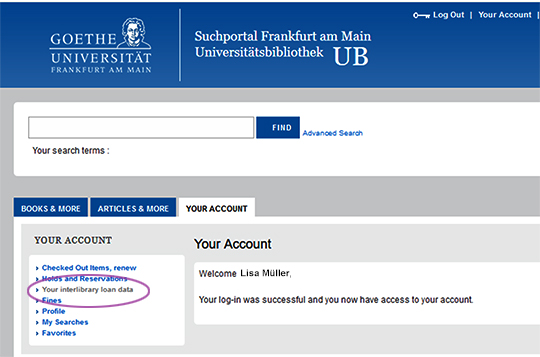 By clicking on the order shown the corresponding data progress will be displayed. You will be notified by email once your loan has been checked in at the library. Please ensure that your user data in the OPAC are regularly updated so that we can reach you. If you don't have a mail address you can receive notification by post.
Extension of the loan period
The loans period depends on the specifications of the supplier library and is mainly four weeks. An extension of the loan period must be applied for in good time. Please complete the following form and send it by e-mail to information[at]ub.uni-frankfurt.de. Please note that it may take a few days to process your request, as the supplier library usually has to be contacted.
If the supplier library does not offer this option you have to return the item(s) punctually.
Return interlibrary loans
Interlibrary loans can be returned on any campus of Goethe-University.
Any more questions?
More information available General Information on Hebis Online Interlibrary Loans.
UB Frankfurt: Giving interlibrary loan
If a book is not available in your home library, you can order it from us via interlibrary loan. Local users have priority over ordering from outside.
Zurück zum Seitenanfang
zuletzt geändert am 11. April 2023