Deutsch
Medical Library / Medizinische Hauptbibliothek (MedHB)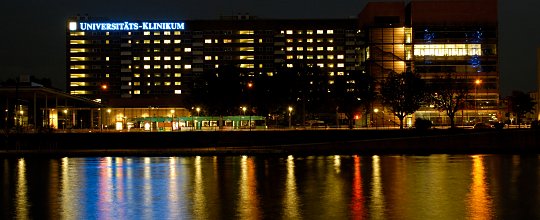 © Christian Vas
Welcome to the Medical Library!
The Medical Library (Medizinische Hauptbibliothek - MedHB) is the medical department of the University Library Frankfurt am Main and functions as the main library for the University clinics.
Address
Medizinische Hauptbibliothek
Theodor-Stern-Kai 7, House 10
60596 Frankfurt am Main
Tel. 069 6301-5058
medhb[at]ub.uni-frankfurt.de
Directions
Take tram 21 from »Hauptbahnhof« or tram 12 from the tram stop at »Hauptbahnhof/ Münchenerstraße« or from »Südbahnhof« with tram 15 and get off at the »Vogelweidstraße« tram stop. Map
A car park (with charges) is located in front of the main clinic building. Site map of the clinic
Registration
Registration for a Library user card, which is valid at the whole University Library Frankfurt am Main, is at Central Library.
Policy of Use for the Library System
Loans
You need a Library user card or GoetheCard to take materials out on loan. The text book collection and open stacks at the Medical Library are for self-service only.
The loans period is 4 weeks for books. You can extend the loans period yourself, but only online and only within the loans period. Extension period is 4 weeks. Textbooks cannot be extended!
Books and other material from the Central Library can be ordered for pick up at the MedHB as long as this option is given in the Frankfurt portal. Orders take 2-3 days to be processed.
Fines and charges
Please refer to the Kostenordnung for the extent of fines. Charges are due as soon as the reminder is issued and is not dependent on when it is received.
Reading Rooms
180 workplaces are available at ground and basement level, 28 of which are fitted with computers and may be used by members of the Goethe University. Group rooms are situated on the elevated platform.
Copy machines
Can only be used with a GoetheCard or a library user card. A money loading machine that takes ec-cards only is located in the basement.
Internet-workplaces
There are 28 places and these are exclusively for use by members of the University who possess a valid GoetheCard. Log-in is the number on the GoetheCard plus password. There are no restrictions for use of the online catalogues.
All online journals are in the Electronic Journals Database
Search Medline
When you use computers on site then your University Library log-in gives you access
Medline 1966-present
Medline via Web of Knowledge

Access free of charge: Medline
Pub Med
via Web-pages DIMDI
Any questions about the databases ?
Please contact Dr. Roland Wagner.
Zurück zum Seitenanfang
zuletzt geändert am 14. September 2023