Deutsch
Music and Theatre - Items in the Collection
Overview
The music collection was compiled with the aim of providing access to all literature and printed music necessary for scholarship and research in the field of music. Accordingly, its focal points are encyclopaedias; handbooks; indices of works and bibliographies; memorial publications on epochs, genres and regions; as well as compendia of a composer's complete work. In the general access area over 7,000 volumes of music and 10,000 volumes of music-related literature can be viewed without any special arrangements; in addition, there are over 15,000 volumes of periodicals.

Individually single issued works by significant composers of the 20th century have been acquired as extensively as possible; these are supplemented by literary remains as those owned by Engelbert Humperdinck, Friedrich Gennrich, and Kurt Hessenberg.

After World War II, the Library obtained 5,000 pieces of sheet music dating from the 18th and 19th centuries from the Offenbach Archival Depot, with many unique prints; they have now largely been catalogued.
The

general access area

for music, theatre, and film includes approximately 10,000 volumes of bibliographies, encyclopaedias, handbooks, etc.; approximately 15,000 volumes of periodicals and conference reports;

Printed music:

137,000 pieces of sheet music;

Stage manuscripts:

approximately 30,000 pieces;

Concert and theatre programmes

from performances in German-speaking countries since 1970: over 50,000
Historical Collections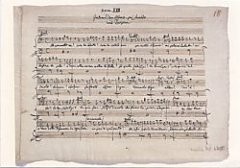 Wolfgang Amadeus Mozart: Cosí fan tutte. [Mus.Hs.2350]
Music manuscripts ((16th - 21st centuries): approximately 4,500 units (not including ecclesiastical music and the opera collection)
Frankfurt ecclesiastical music (17th - 18th centuries): handwritten material on approximately 1,550 works (including 800 cantatas by Georg Philip Telemann), approximately 100 prints
Frankfurt Opera Collection (late 18th - 21st century): material on approximately 1,000 stage productions, a total of 276 metres of scores and sheet music for individual voice parts. Dating after 1950 there are also figurines and photos of stage sets
Collection of autograph letters (17th - 21st centuries): approximately 20,000 letters from musicians and composers, singers and actors
Portrait collection (17th - 20th centuries): approximately 30,000 portraits of musicians and composers, singers, and actors (photos, engravings, lithographs, reproductions)
Opera and concert programme collection (18th - 21st centuries): approximately 200,000 pieces from numerous cities and countries
Libretto collection (18th -21stcenturies): approximately 3,500 librettos
Poster collection (19th - 20th centuries): approximately 2,000 posters
Inherited and private collections once owned by Julius Stockhausen, Engelbert Humperdinck, Wolfram Humperdinck, Hans Meißner, Albert Richard Mohr, Werner Menke, and others
The historical collections and collections of special items, along with the inherited collections, are presented in alphabetical order with detailed descriptions and information on how to conduct a search:
Zurück zum Seitenanfang
zuletzt geändert am 17. März 2022