Africa South of the Sahara
General information
The SSG covers all regions of the whole of Africa with the exception of the mediterranean neighbouring countries, Mauritania, West Sahara, Sudan, Ethiopia, Eritrea, Djibouti and Somalia. All areas are covered except economics, modern law, modern medicine, natural sciences, languages and literature pertaining to the Orient (in particular here Arabic).
Even before we became responsible for this Special Collection area there has always been the tradition of an African collection in Frankfurt. The first large legacy of the oriental- African collection is due to Job Ludolf (1624-1704), the founder of Ethiopian studies. His work on the language of the Hottentots puts him at the forefront of Africanistic studies. A valuable Ethiopian manuscript collection was presented to the library by the scientist Eduard Rüppel (1794-1884).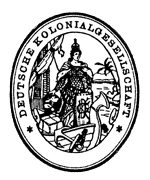 The African collection was kept up to date with its acquisitions of contemporary reports on research and expeditions and was given more comprehensive coverage with the addition of the Bibliothek der Deutschen Kolonialgesellschaft [Library of the German Colonial Society].This valuable stock (approx. 15.000 monographs and an immense number of colonial journals) was the basis for continually extending the stocks of African literature.
From 1964 to 2015 the Deutsche Forschungs Gemeinschaft commissioned the library to be responsible for the Special Collection (Sondersammelgebiet - SSG) area 6.31 "Afrika Südlich der Sahara" [Africa - South of the Sahara]. It has been the library's duty since then to buy foreign and German literature on this area.
Collection profile
The Universitätsbibliothek buys as comprehensively as possible literature pertaining to the Special Collection areas , which is published outside Africa, as well as research and source literature from those states which belong to the Special Collections.
Before the Second World War literature was collected on the whole of Africa; after the Second World War the collection focussed on South of the Sahara. In the meantime the African Collection has expanded to 200.000 units.
regional:
Angola • Benin • Botswana • Burkina Faso • Burundi • Cameroon • Cape Verde • Central African Republic • Chad • Comores • Congo (Brazzaville) • Congo (Kinshasa) • Equatorial Guinea • Gabun• Gambia • Ghana • Guinea • Guinea Bissau • Ivory Coast •Kenya • Lesotho • Liberia • Madagascar • Malawi • Mali • Mauritius • Mozambique • Namibia • Niger • Nigeria • Republic South Africa • Rwanda • Sao Tome and Principe • Senegal • Seychelles • Sierra Leone • Sudan (as well as non-islamic) • Swaziland • Tanzania • Togo • Uganda • Zambia • Zimbabwe

subject:
language, literature
history including social history and economic history
politics, constitution, administration
publications on political parties, union and similar
organisations
anthropo-geography and geography
prehistoric and early history
ethnic studies (social anthropology, ethnology
pedagogy and further education
academic institutions
information, book and librarianship
publishing
film, radio and television
religion and philosophy
art, music, theatre and dance
law , mathematics, agriculture, medicine, natural sciences and technology in their traditional forms
parliamentary documents of the central parliaments
Services
If you wish to use the stock in situ in Frankfurt please note the following:
Since 1964, the Africa Department has been located at the Bockenheimer Warte on the third floor of the reading room section.
There is a joint reading room »Lesesaal Spezialsammlungen« as well as an adjoining open stack area with journal stocks.
The greater part of the stock is stored in the stacks area and must be ordered online, or by means of a loan slip, one day in advance. Non-local users should, therefore, enquire by post or E-Mail about books or get in touch with the reading room (Tel. 069/ 798-39398).
In our Reading Room we do provide WLAN and a special PC for research in databases. Please bring along your personal USB-stick, because there is no printer.
The special collection "Colonial Library" signature (S 17) can only be consulted in the reading room. Interlibrary loans are not possible but contract copies can be ordered. For access to valuable works, it is necessary to show your identity card (or passport).
Interlibrary loans and document delivery
You can order the borrowable stocks through your own library by means of the interlibrary loan system or through a document delivery service such as Subito.
Zurück zum Seitenanfang
zuletzt geändert am 6. Mai 2016